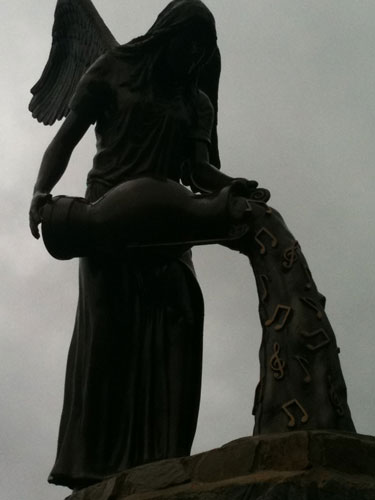 Lenny was raised in Hazleton, PA most of his life, as oldest of 4 – a brother Marlon, sisters Celeste and Gina.
Graduated Hazleton High School class of 86, and summa cum laude from Penn State University Park in 1990.
Growing up Lenny listened to Dream Theater, Metallica, Guns and Roses, Steve Vai, Blue Oyster Cult, Living Colour, and alot of classic rock, with his favorite still to this day Dream Theater. Early on Lenny's musical influences were mostly 80′s Hair Bands. Now influenced and inspired by God, John Petrucci, many jazz and blues greats, classical music,  and loved ones.
Lenny's musical journey started with his late uncle Ray (Ray Carbe Sr), who owned a music store right next door to Lenny.  Lenny started playing guitar at age 5 under his tutelage and started age 10 working in this store every day until he graduated high school.  Band practice was almost daily growing up, in the family "parlor" in the already tiny home their family of 5 grew up in.
Lenny's mother let him spend every single penny he earned working so he was able to buy more and more musical equipment as he was growing up, with his first major purchase taking few years being a Mesa Boogie guitar amplifier. 25+ years later, he is now an endorsed artist for that same amp company.
Lenny started out playing cover songs on an electric and has continued most of his life until the past several years where he has ventured more into acoustic, classical, jazz, and blues, with more focus, passion and energy about it than any other time in his life. Has played with and studied under Jazz Legends Frank Dibussolo, as well as Dennis D'Amico.  Recently Lenny has taken up the cello, and has recorded some songs and performed live with it.
Lenny is honored to share the stage with his wife Bobbie on over 1/2 the bands he performs with. Bobbie (seen in the photo right by Lenny's side) and Lenny are Senior VPs of Primerica Financial Services for the past 21 years and have several offices across North America, including Canada, New York City and Las Vegas.
It's the business they have built there that allows them the freedom to pursue their dreams and fulfill a life purpose of helping others become successful business owners.
Lenny Kucinski has been performing live with many different bands for the past 25+ years and now currently involved in 5 different bands.
Contemporary Christian Rock – VESSEL
Epic Holiday Rock Orchestras – Twelve-Twenty Four
Blues Party Band – Dynamic Blue
National fundraising Corporate Band – One Night Stand
Leading Worship At His Family Church- Full gospel Fellowship
Lenny manages a full schedule, while maintaining recordings with all of them in his home studio – Studio Independence- Located right in their log home in Eagle Rock Resorts, Hazleton, Pa. He is the owner of Night Before Christmas Publishing and recently selected as a preferred writer for Organic Music Library. All these projects aimed to further his newest passion of writing songs for Film and TV.